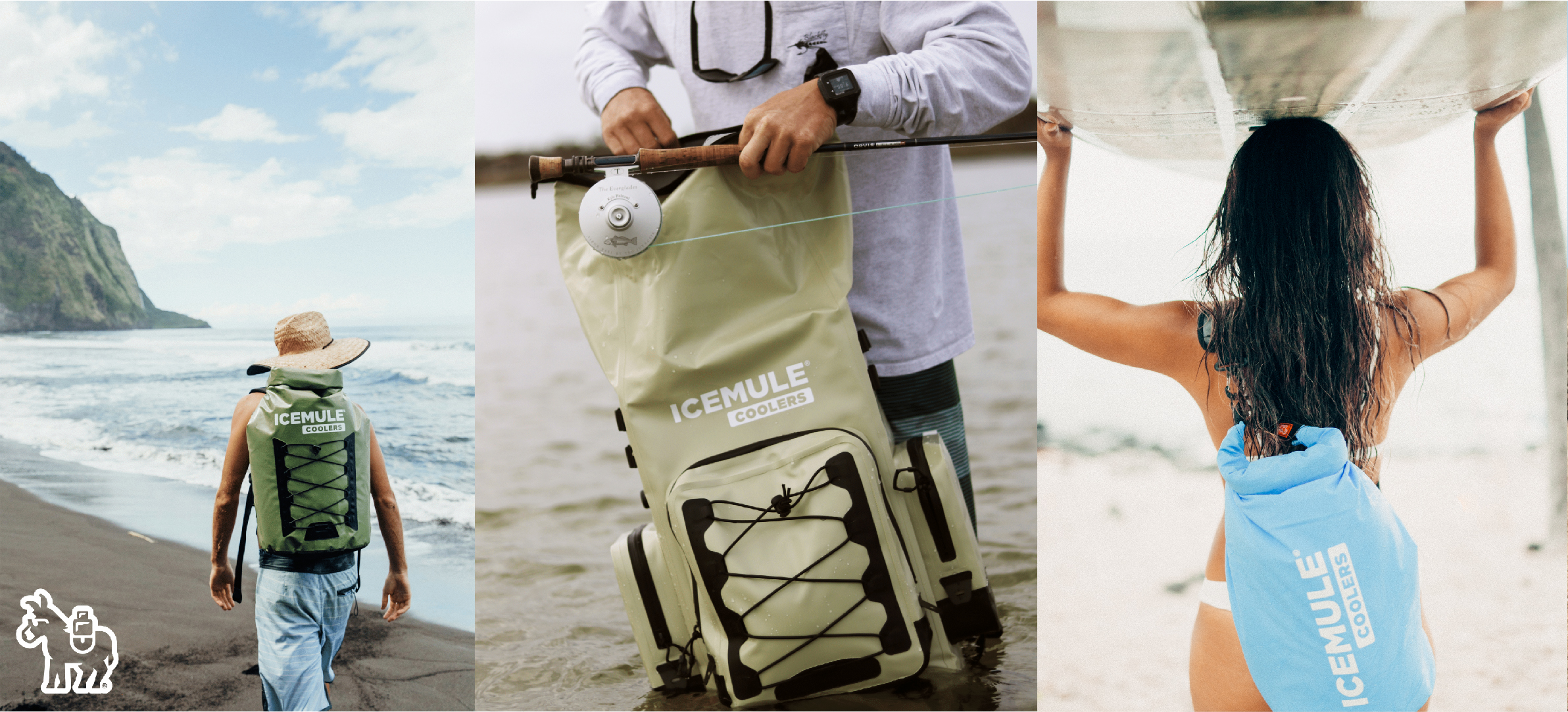 TIPS, TRICKS & ANSWERS
It may be a simple cooler, but it's actually pretty complex. So naturally, you probably have some questions. Luckily, we've got answers. Don't see what you're looking for below? Shoot us an email.

HOW LONG DOES AN ICEMULE® KEEP ICE?
Your ICEMULE will keep ice for 24+ hours if you use the recommended 2:1 ice ratio, the cooler is closed properly when not in use and you avoid direct sunlight. Like any cooler, the more it's opened and the more hot air is introduced, the faster the ice melts. That said, when kept properly closed, the ICEMULE can keep ice for much longer. The new ICEMULE BOSS, on the other hand, is designed to keep ice for several days.

HOW MUCH ICE SHOULD I PUT IN MY COOLER?
The bigger the cooler, the more ice you'll need to ensure optimal ice retention. We recommend a 2:1 ice-to-can ratio for all our backpack coolers. Remember to put your food and drinks in the ICEMULE already chilled to maximize your ice retention.

CAN I USE DRY ICE IN MY ICEMULE?
We strongly advise against using dry ice which will burn the inner fabric of the ICEMULE and void your warranty.

WHAT'S THE MAXIMUM WEIGHT PER COOLER?
An ICEMULE Backpack Cooler can carry up to 29 kgs. The only question is, can you?

HOW DO I PROPERLY CLOSE THE ICEMULE?
All ICEMULE Coolers use our patented, insulated dry bag design, which means no zippers and easy access. Closing the cooler is easy. Just FOLD (don't roll) the top toward the logo 2-3 times, after that, simply clip the cooler towards the back and you're set.

WHAT'S THE IM AIRVALVE™?
Another feature found only on the ICEMULE is the AirValve. Because of the unique design of the ICEMULE, we added the AirValve so you can release the natural layer of air captured in the PolarLayer when you roll it up for storage. It has the added benefit of enhancing the insulation when you add extra air to the cooler after it's filled up with ice and beverages. But don't put too much air in. If you blow it up like a balloon you'll lose capacity. Everyone eventually finds their own perfect balance with the AirValve.

HOW SHOULD I CLEAN MY ICEMULE?
Proper maintenance of your ICEMULE is key to ensure optimal performance. If you've only stored ice inside (i.e. no food or spilled beer or soda), simply pour the ice out and hang the ICEMULE upside down to dry. If you've had organic contents in the cooler that could create mildew, simply put a few drops of liquid soap (e.g. dishwashing soap) inside the cooler and then hose it out. For the ICEMULE Pro Catch™, given that it's designed to carry fish, you may need to scrub the interior with a brush, but don't worry, the interior is tough enough to take it.

HOW SHOULD I STORE MY ICEMULE?
No other cooler stores as easily as the ICEMULE. You can hang it up in your garage or roll it up and stick it under the seat in your car. Make sure you let the cooler dry out before rolling it up to prevent any mildew from developing. Every ICEMULE ships with either the Utility Strap or the stuff sack for when you roll it up.

DOES AN ICEMULE REALLY FLOAT?
Absolutely. ICEMULE coolers float when properly closed, and even when its packed full of ice, beer, water, or whatever you need to keep cold. Trust us, we've tested this often.

DOES AN ICEMULE SWEAT?
The ICEMULE doesn't typically sweat under normal conditions. There are only two circumstances when it might. 1) If there is a hole in the interior and water has seeped into the insulation layer. 2) When it is full of ice and left in an enclosed hot space.

HOW IS THE ICEMULE MADE?
The ICEMULE is manufactured with a focus on quality, strength and utility. That's why the ICEMULE Cooler is tough, portable and durable. Specifically, the ICEMULE's waterproof 'skin' is welded together using a method called radio-frequency welding, which actually fuses the material together at the seams. This way of creating the ICEMULE doesn't require stitching, which means the ICEMULE is totally waterproof.

All ICEMULE Coolers have an inner shell that is 3x thicker than the average soft side cooler. Every ICEMULE is made with a heavy-duty waterproof exterior. The Pro, Pro Catch and Boss all have a 1000 denier tarpaulin fabric exterior; the toughest soft cooler shell out there that will take whatever you throw at it.

WHAT'S YOUR WARRANTY?
If you are dissatisfied for any reason, you may return any items within 90 days of delivery for a refund or replacement.

Please note that we can only honor return/replacement requests from Authorized ICEMULE stockists. In some cases, unauthorized sellers show up in 3rd-party shopping sites and we cannot verify that the product you purchased is a genuine ICEMULE. In such cases, we may not be able to honor your return request. If you have any questions about whether your seller is a legitimate ICEMULE stockists, please check our Stockists page or contact us and we will be able to tell you. Or, simply buy here.

You should expect to receive your refund or replacement within four weeks of giving your package to the return shipper, however, in many cases you will receive a refund or replacement more quickly. This time period includes the transit time for us to receive your return from the shipper (5 to 10 business days), and the time it takes us to process your return once we receive it (3 to 5 business days).

If you need to return an item, simply visit our Contact page and fill out the form. We'll contact you via e-mail once we've received your message and will begin the process for returning your item.
WHAT'S YOUR SHIPPING POLICY?
We are pleased to offer free standard shipping anywhere in Australia and New Zealand across the entire IceMule range.
All coolers are dispatched from Melbourne within 1 business day of payment being received – you will be notified via email once your ICEMULE is in transit!
Australian customers - you can expect your cooler to arrive between 2 and 8 days depending on your location. New Zealand customers - you can expect your cooler to arrive between 4 and 8 days depending on your location.
HOW CAN I SPEAK TO CUSTOMER SERVICE?
Our customer service team is always ready to help. Just click here to send us a note. Or, feel free to give us a call directly at 0407 102 256.